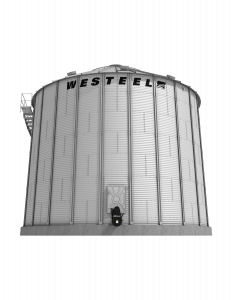 It's not just a silo. AGI Westeel storage systems are built to endure and provide you with only the best options, when it comes to your investment. Westeel has a diverse product offering to help you make a little extra time for yourself and the ones you share a table with.Built for superior strength and utilizing heavy gauge, ultra-flat corrugated steel, AGI flat bottom silos are tested for all weather conditions around the world.  All products are manufactured under the stringent requirements of ISO 9001, and employ the latest in computerized design and production technology throughout the manufacturing process. The result is products of superior quality and long-term value – products that represent the finest in commercial and on-farm grain storage available.
For strength, durability and long-term value, Westeel stiffened bins can't be beat. Designed for smaller commercial operations and large farms, we use the exclusive Variable Section Stiffener (VSS) to achieve the maximum load possible out of each pound of steel.
This provides the additional strength you need without the extra expense of having to use a heavier gauge.  Our attention to detail continues to the roof, which is up to 63% stronger than conventional designs and uses fewer panels and pre-punched vent openings to ensure easy assembly.
Additional features and benefits:
Features the Century Door, a robust walk-in option

Leading corrosion protection

State of the art ladder design